About Us
About Me:

I am proud to be a Vermont born and raised native. I was brought up in Winooski and learned from my French Canadian parents the value of being honest and reliable. I have incorporated that honesty and reliability as the core philosophy behind our company.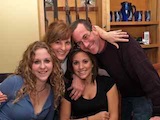 I married my wife Carla in 1983. We were soon blessed with our two girls, Amie and Katie and are now living in a modest home in Colchester VT. We are a small locally owned and operated company and are proud to provide service to our area residents and businesses.
These past 20 years have seen a steady increase in our business with an excellent outlook for the future! Overall, I have 35 +/- years with hands on experience in the building and remodeling business. I have been classified as a Harvey Master Applicator by Harvey Building Products and I have met an increased level of requirements set by Harvey Building Products, including sales by product category and quality. I have also been designated a preferred installer of Mastic siding.
In the Beginning:
My experience started in my high school days when I worked in the summers with one of my cousins building houses. I, of course, did most of the grunt work but I was able to learn a great deal by working in the construction and home building environment.
After high school I continued working in the siding, window and door industry with another cousin. I soon became the main installer for his company and I was able to acquire the skills necessary to measure accurately for siding, window, door and patio room installations. After achieving more experience we were able to buy into the company and became full partners with him. With this change in position I became proficient in management, estimating, scheduling and all aspect of running the company..
After many years in this capacity I felt it was time to move on and create my own company. I have owned Roys' New View Inc. for the past 20 years and have been incorporated for the last 19 years.
Our Company:
With 35+ years of window, door and siding experience, Ron Roy, owner of Roy's New View Inc., is a hands-on craftsman with an experienced crew committed to achieving 100% satisfaction from every homeowner. We do not use sub contractors for any of our installation work.
Our customers are primarily single family homes but we also have done many large projects with multi-unit condo associations for both windows and doors and also many other commercial installations.
Roy's New View Inc. is fully insured and offers free in-home estimates. As with any business, you are only as good as your employees. We hire and retain a great crew of experienced installers who take as much pride in their work as I do.
Our Quality Statement:
I am extremely proud of the work Roy's New View Inc. does and my company proves this daily, in all our jobs, by doing the best quality work possible. We always use the highest grade products possible that are within your budget, offered by Harvey Building Products, our main supplier, and many other local and national vendors!
Our main objective is do it right the first time, period......